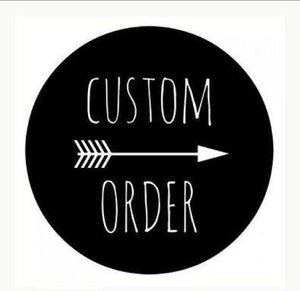 Custom Luminary, measuring approximately 6.5x3.5 and fired with Georges hair.  "Angels Special K" and "George" will be added.  Colors in turquoise and red (to compliment vase in FB messages)
All orders must be paid for in advance, and your order will not be started until then. All orders are one of a kind and are made from raw clay, which is quite a process.  Each piece is created with a lot of thought put into it, and artistic freedom is required.  Because I am a perfectionist, sometimes pieces may take longer than anticipated.  In such a case I will contact you to let you know the status, or you can contact me and inquire how your piece is coming along at any time :)
All custom orders are created upon receiving your order. Most items take six to eight weeks to create, but depending on the time of year and supply issues that could vary. If you need this item by a certain date please email me for a good estimated completion date.  As of 10/1 the current estimated completion time is approximately three months.
Shipping is not included in pricing. You will receive a separate invoice for shipping once your order is completed.    
Changes are allowed up until the time that I begin creating your piece.
I do not offer refunds. If you have an issue with your piece please contact me and I will gladly discuss options with you, including remaking the entire item. I like happy customers so expect me to go above and beyond on this!
If you would like a special horses hair used on the piece I do offer that as an option.  Please put it in a zip loc bag with your name and the horses name on the outside of the bag. There is no need to wash the hair unless you are getting a piece with a braid on top. If you would like me to wash and braid the hair I do offer that service for an additional $25.. Please send as much hair as you see comfortable with. Any unused hair will be returned to you.  If you do not send hair I will use hair I have on hand here.
You can send the hair to me at:
Mitzi Shepherd
3595 Elk River Rd
Billings, Mt 59101